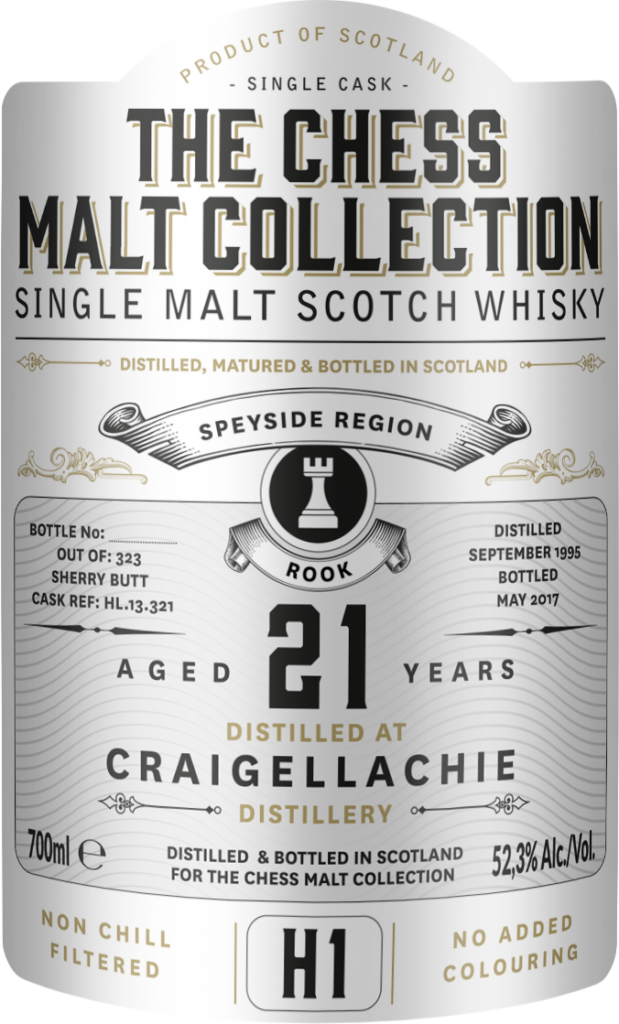 White Rook - H1
Craigellachie, 1995 – 21 Years Old Speyside Single Malt – 52,3% (Sherry Butt)
Release date: 3rd November 2017
Appearance
A wonderful nice dark golden color with a brilliant mahogany glimpse.
Nose
Soft and welcoming with lots of raisins, chocolate, dark dried fruits and Christmas cake.
Palate
Rich with dried fruits, nuts, orange peel, caramel and dark chocolate. Hints of tobacco and aged-oak spice.
Finish
Long and lasting length with slightly bitter fruits and more chocolate. And a touch of white pepper in the aftertaste.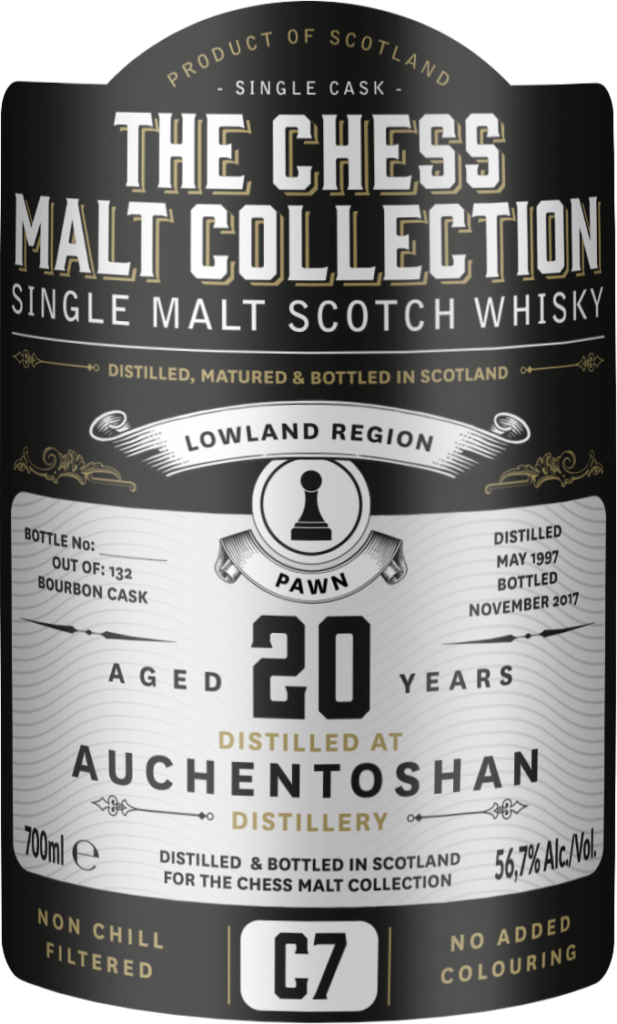 Black Pawn - C7
Auchentoshan, 1997 – 20 Years Old Lowland Single Malt – 56,7% (Bourbon Cask)
Release date: 15th December 2017
Appearance
A nice and deep golden mature barley appearance.
Nose
Fruity with citrus and some sweet notes with a hint of vanilla and coconuts and toasted almonds.
Palate
The whisky is rich, nutty and oily. It has a floral freshness with sweet vanilla and spicy oak notes but also notes of sweet milk chocolate.
Finish
Lasting notes of vanilla and spices with a hint of fruity notes. It's a well balanced dram.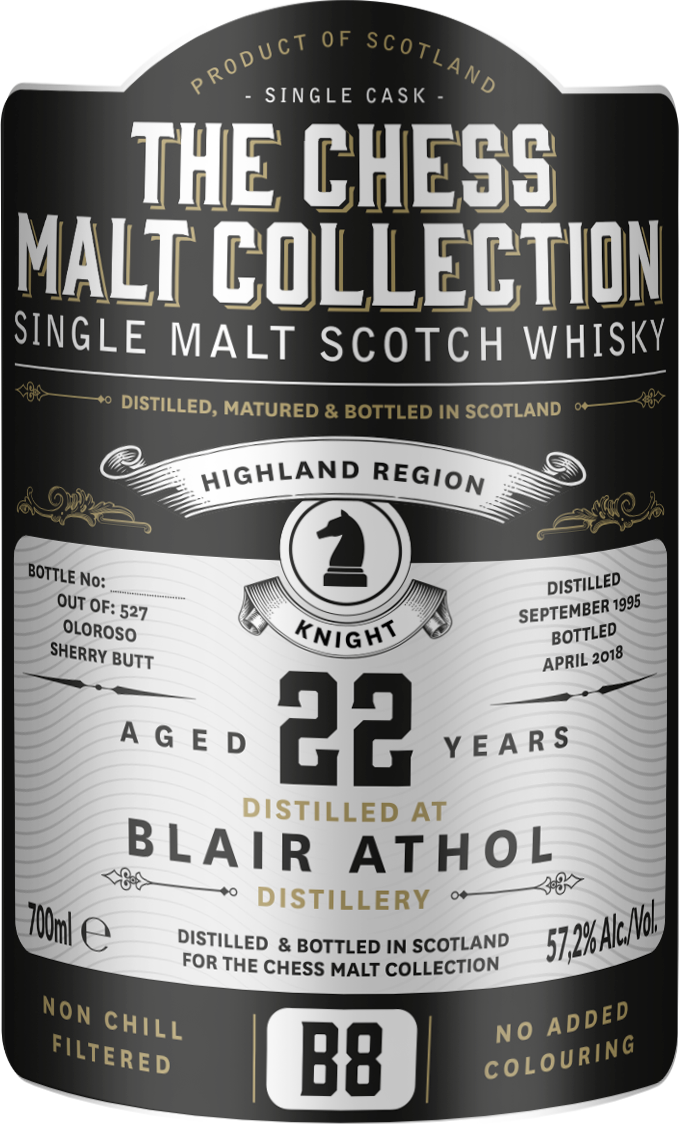 Black Knight - B8
Blair Athol, 1995 – 22 Years Old Highland Single Malt – 57,2% (Sherry Butt)
Release date: 1st May 2018
Appearance
A nice clear and golden sherry color.
Nose
Lovely Oloroso-sherry notes with toffee, orange and a hint of black pepper with vanilla and ginger.
Palate
A big creamy Sherry sweetness, plum, toffee, spices and sweet raisins with a slightly nutty note. The nice cask strength makes a fine balance to the sweetness.
Finish
Silky smooth with sweetness, spices and a hint of toffee and grapefruit notes. It's a cracking sherried Highland malt.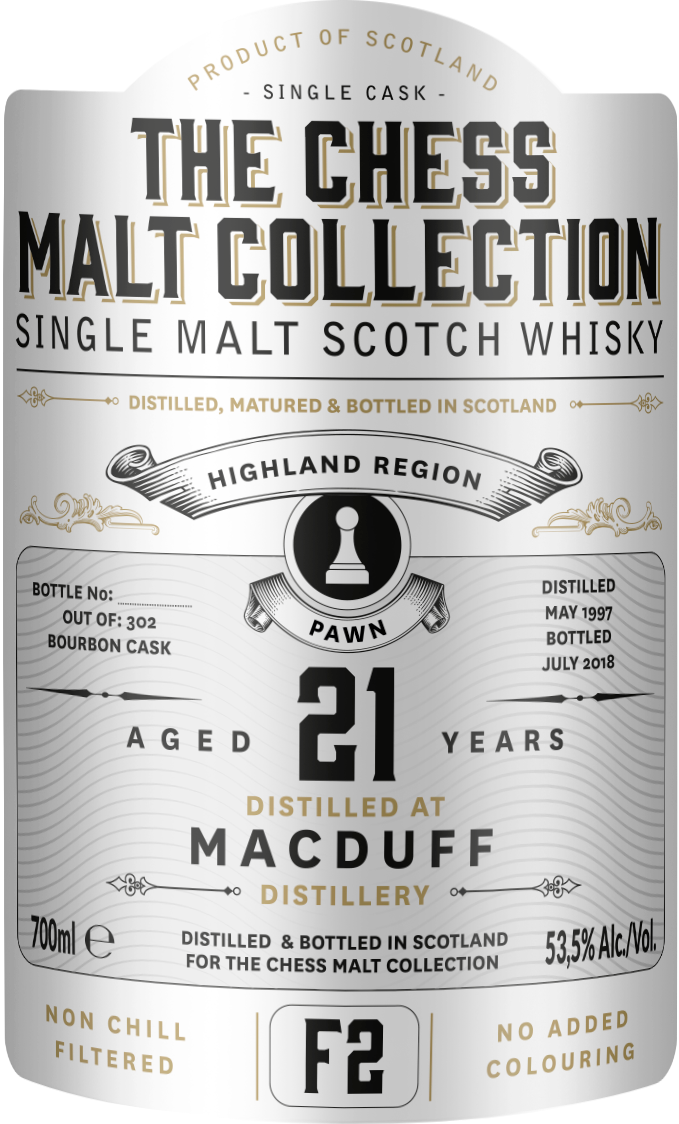 White Pawn - F2
MacDuff, 1997 – 21 Years Old Highland Single Malt – 53,5% (Bourbon Cask)
Release date: 1st September 2018
Appearance
A clear and nice yellow grain color.
Nose
Notes of green banana, honey with vanilla, cereals, apple skin and black pepper.
Palate
A bit spicy, rich and with fruity aromas and spicy wood and more black pepper.
Finish
Dry with vegetables and pepper notes followed by gentle oak spices.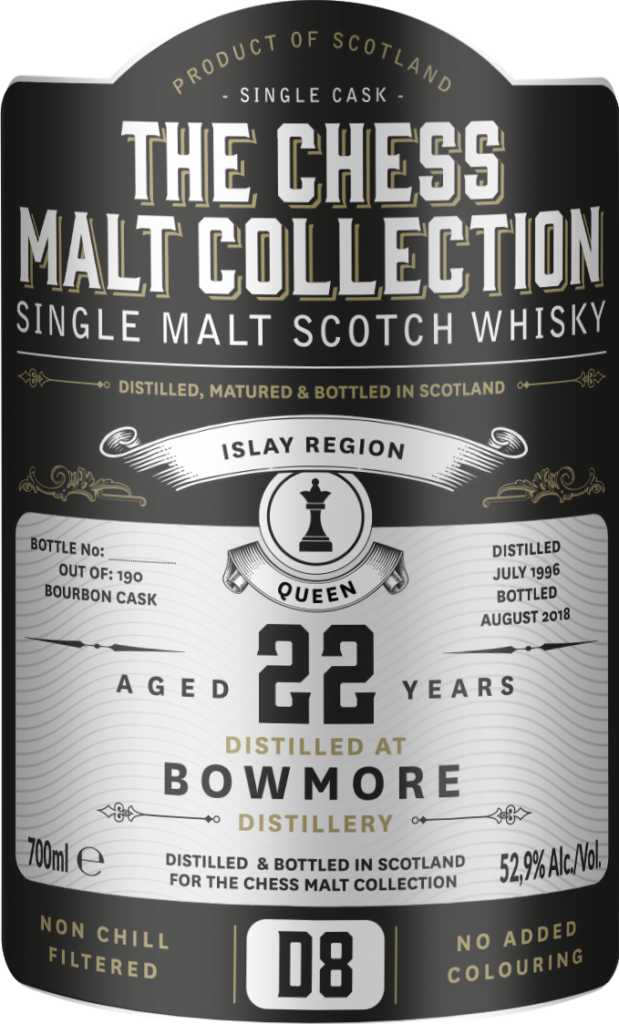 Black Queen - D8
Bowmore, 1996 – 22 Years Old Islay Single Malt – 52,9 % (Bourbon Cask)
Release date: 1st November 2018
Appearance
The color is beautiful, clear and golden.
Nose
A delicious aroma with peat, smoke and a little hint of liquorice.
Palate
Classic with lots of menthol and smoke with a nice salty feel on the tongue.
Finish
A long and lasting taste of salt, ash and peat. What a wonderful drama.
WHERE TO BUY THE CHESS MALT COLLECTION?
The Chess Malt Collection is sold at selected retailers, and exclusive restaurants and bars.
FIND YOUR NEAREST DEALER